The art of giving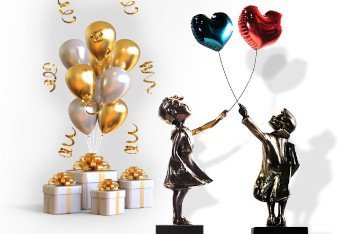 What budget do you have to give art?
How often we do not know what to give to a special person, they have everything or we cannot find something special, it is here where giving a gift of artwork can be the easy solution.
Limited edition works, signed and numbered by the artist himself is what we propose at our art gallery. A unique work with its own Certificate from an art gallery.
Do not know what to give? you believe that giving art speaks of you, and also that the art increases in value over time.
We send you your order where you tell us to send it, we wrap it for a gift. And it also arrives at its destination within a maximum 2-4 days.
Giving art as a Christmas gift is another possibility that thanks to the affordable prices of art in our gallery, you can now afford it.
Gifts of art works, special gifts for lovers, give art for couples or art gifts for men and women.
Giving as a gift a sculpture speaks of the one who gives, both be they original gifts of art as is the case with corporate gifts or giving art as a business gift.
Our art gallery also gives you the possibility of purchasing sculptures commissioned by our sculptors and per request; we will write what you want on a card.
If you are visiting London or near, giving art in London is now easier, as you can come directly to our gallery.
Advertising gifts are always a good idea to be used as a detail for your customers, if done with good taste, you may even win their loyalty for your brand. This is the case of giving a work of art.
Giving art at retirement is synonymous with recognition for work and dedication through the course of many years; it is the prize for a lifetime dedicated to the project, to the company, where values such as fraternity or friendship are reflected in the act of having this kind of a touch as a retirement gift.
Giving art as a wedding gift is always a success, especially when you do not know what to give because the couple has everything. With art this does not happen, in our case, because our works are limited edition, with their certificate of authenticity and signed by the author, you can be sure that your wedding gift will be unique and special for such an important occasion.
Advertising articles or promotional products in promotional campaigns or advertising campaigns often generate rejection of your customers. With graphic work and sculptural art this does not happen. Many advertising items end up in the trash, for instance pens, calendars ... Do you know someone who has thrown a work of art that they have been given? Surely, nobody would ever throw away a work of art that will revalue over time, as our emerging artists quoted in galleries tend to increase the value of all their work.
Personalized company gifts such as a sculpture with a card written with a very personal text, our variety of works will be adjusted to your taste and that of the person who will receive the piece. The person who receives it will surely like to know that it is not a reproduction made in series, but rather it is a work made by hand originating from modeling in clay by a recognized artist.