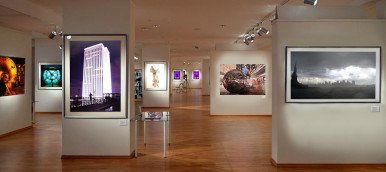 Numbered artistic editions of photographic work in the highest quality and on different supports chosen by the artist.
What is Gallery frame with passe-partout?
The Fuji Crystal Professional Archive Máxima photographic paper has been framed with a distinguished mount and a classic wooden frame covered by acrylic glass, extremely light resistant and of the highest quality.
An elegant and professional result is obtained, which will give a touch of class to your home.
Dibond aluminum has a particularly pure and authentic effect due to the absence of glazing. It is made up of three layers: two platinum white coated aluminum plates encapsulating a black polyethylene core. The thin and robust film that covers the photographic print protects your image on dibond aluminum effectively and without bubbles.
The result is a plasma screen effect, increasingly used in final art in art galleries around the world.
What is artistic photographic reproduction?
For this support a new development of high gloss paper is used, Fuji Crystal Professional Archive Máxima, whose maximum visual density has once again increased by 10%, increasing the detail of any other photographic paper.
The result is a reproduction of high artistic and lasting quality, with which you can place it in your home as it is or frame it to your liking.