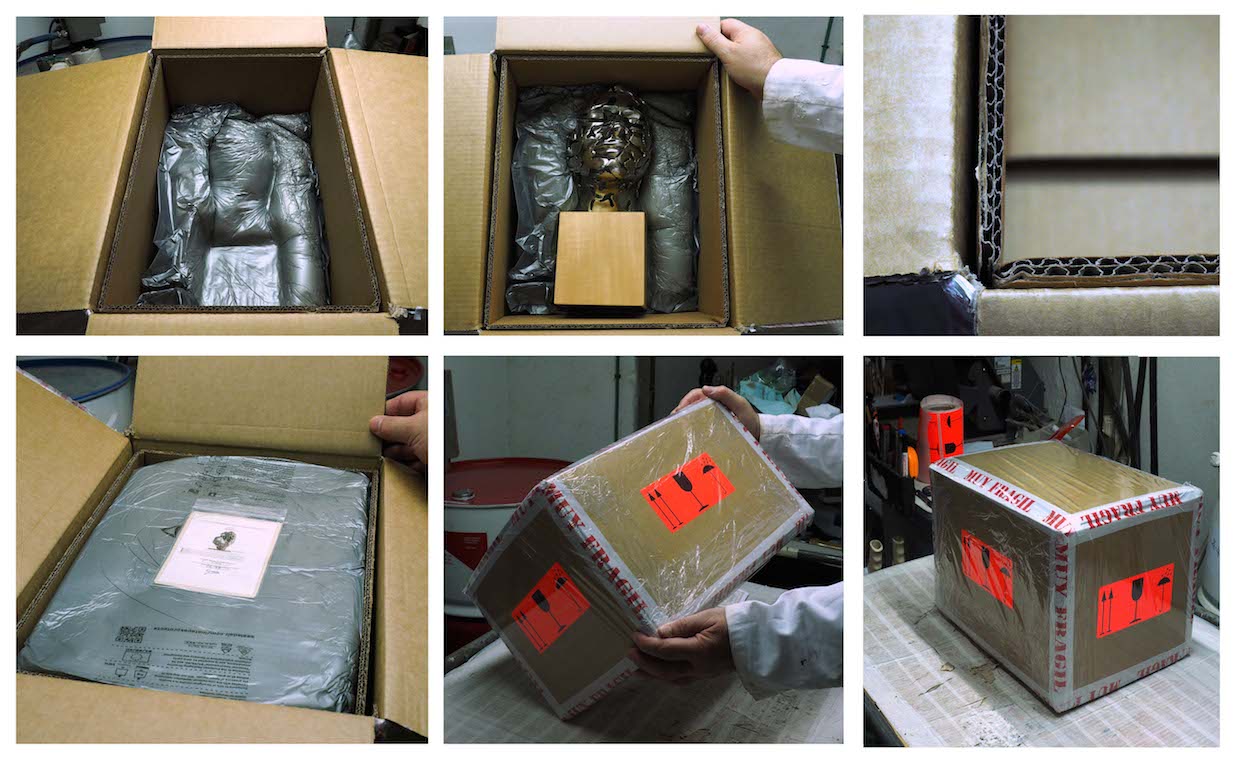 Shipments and returns
Your pack shipment
Packages are generally dispatched within 2 days after receipt of payment and are shipped via UPS with tracking and drop-off without signature. If you prefer delivery by UPS Extra with required signature, an additional cost will be applied, so please contact us before choosing this method. Whichever shipment choice you make, we will provide you with a link to track your package online.
Shipping fees include handling and packing fees as well as postage costs. Handling fees are fixed, whereas transport fees vary according to total weight of the shipment. We advise you to group your items in one order. We cannot group two distinct orders placed separately, and shipping fees will apply to each of them. Your package will be dispatched at your own risk, but special care is taken to protect fragile objects.

Boxes are amply sized and your items are well-protected.
Shipping and returns of BuySculptures
The artworks are shipped directly from our workshop in Madrid, Spain. We strive to provide our clients with the best service possible, not just in the area of products but also in the shipping, by covering the costs of insurance while in-transport as well as taking care of the customs. Since the costs of shipping depend on the size and weight of each artwork, they are calculated a separate for each piece.
Please consult the shipping charges for each artwork at the page dedicated to given artwork.
Combined Shipping, 20% discount
You can pay less for the shipping in case you purchase more than one sculptures at a time! Should you decided to buy two or more sculptures from our virtual store, you will automatically get 20% discount on the cost of shipping of each of the purchased artworks!
Note: the most important factors in the shipping cost are the size of the package and the distance. We do our best to make sure that those magnificent artworks arrive at your place without problems, due to this we use special wrapping and safe boxes that impact negatively (making it larger) the size of the package. Please take a look at how we securely wrap the sculptures to make certain they arrive in perfect condition at your place.
Terms and Conditions
By purchasing items in Miguel Guía's online store, you accept these terms and conditions. Please read them carefully.
Items
We strive to perfection when describing Miguel Guía's items. We always attach 6 quality photos to each item listing and a 3d video when possible and we make sure our descriptions are as accurate as possible. Any errors which may appear on the web site are not intentional.
Purchasing items
When purchasing items from us, please read the item descriptions carefully. They bind us (you-the buyer and us-the seller) and are to be treated as a contract between both of us.
Shipping policy
We ship using the fastest courier possible (if not indicated otherwise). We don't ship using slower, cheaper methods in order to guarantee the quality of service our customers are expecting. There is always a possibility to pick up the item in our workshop.
Returns Policy
We accept non-conditional returns, provided the item will be sent back to us on the buyer's expense. We will refund the whole sum subtracted by the shipping costs.
Problems during shipping
Should there occur any problem with the piece during shipment, this is to be reported to us within three (3) days of receiving the item. It is important not to exceed this time frame as it is set by the shipping companies' strict policies. When sending a complaint, please attach photos of the item and package.
Email and electronic communication
We may be sending emails to you - our buyer, but only related to your order with us. We may also send you a one-time invitation to our Newsletter.
Privacy policy
We use your personal data only in connection with your order. We will never share, sell or give your personal data to any third party. For any reason.
Miguel Guía's authenticity
All the works presented in this online shop have been crafted by Miguel Guía and are being shipped directly from his workshop in Madrid, Spain. This is the official online gallery of the artist Miguel Guía.