Buy Meninas sculpture in contemporary art gallery
From the Prado Museum we can appreciate his most famous painting, Las Meninas de Velázquez, of which sculptors such as Miguel Guía, Martín Duque or Jesús Campos have departed to create the most contemporary versions of sculptures.
---
Buy sculptures Meninas
The created inspired by the painting> of Las Meninas that you will find in the art gallery, have been carefully selected by our experts, so that your home is decorated with quality art, exclusive and recognized artists.
His original sculpture that includes author's certificate, made in limited edition, signed and numbered in which there is a recognized artist behind awaits you in this artistic selection.
Online without leaving the comfort of your home, you will find our selection of Meninas, obtained thanks to our agreements with artists, to facilitate you access to internationally recognized sculptures, directly from the author through accessible editions.
From the art gallery, we intend to make it easier for you to access Meninas sculpture in which to invest. This is possible thanks to the prestige of our artists, guaranteeing their increase in value over time.
Of course, the appreciation of your pet is undoubted, however, as it is a work of great value, since we talk about art and this one is revalued, always keep the certificate of originality that includes the sculpture in the shipment.
Not only will you enjoy a Meninas sculpture for interior decoration, it will also increase in value in the future.
One of the agreements with artists is the possibility to obtain the sculpture in different finishes.
We can talk about bronze sculptures with different patinas, nickel chrome and even wood of different types.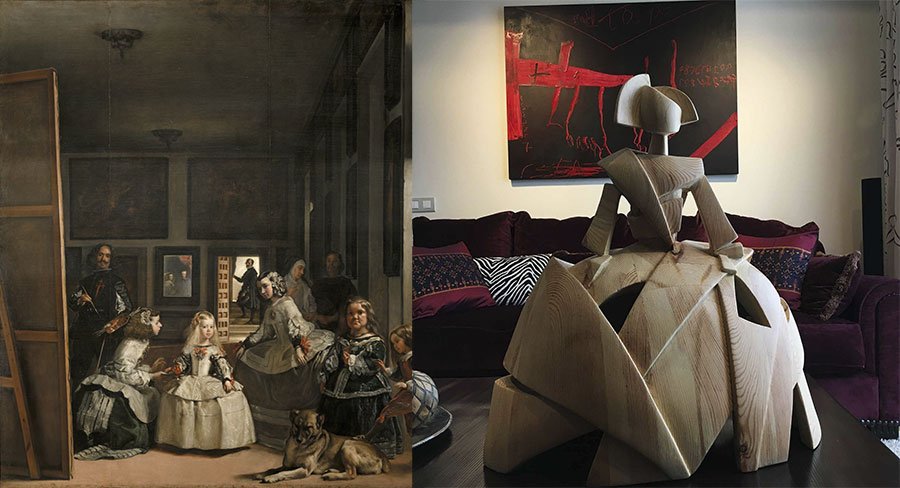 We have a service, which we offer at no cost to you, in which we include a card, such as a greeting or thank you card, if you want to give away a Meninas sculpture.
The person will receive the Meninas sculpture, along with the certificate of originality and the card, designed by our team of design experts.
The card will suit each situation, for example, a thank you card.
Do not forget that you can visit our art gallery in Madrid, accessing the contact page, where you can see the Menina sculptures and paintings in first person and even acquire the works.
If you wish, you can visit our art gallery in Madrid, through our contact page you will find all the information to visit us. You can see the animal sculptures in person and even acquire the work.